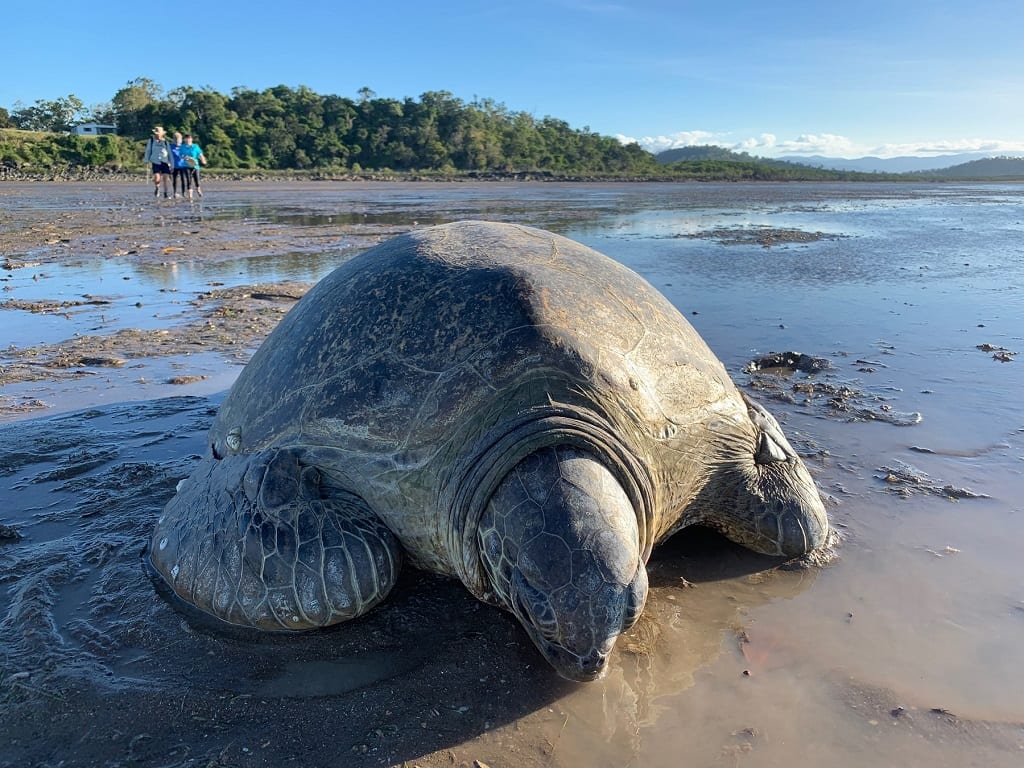 When to Report a Stranding
Report a sick, injured or dead turtle to the Marine Stranding Hotline: 1300 130 372
Due to historic and current threats, the Conservation Status of all sea turtles is either vulnerable or endangered. Threats such as marine debris, habitat loss, illegal hunting, pollution and vessel strikes are causing depletion in turtle numbers. The survival of every sea turtle is therefore important.
Members of the public can help by reporting any dead or injured sea turtle that they may encounter. Not only will this potentially save the turtle but the event will also be recorded on the official State government database called StrandNet. This information is an invaluable resource in the management and survival of turtles along our coast.
By calling the Marine Stranding hotline, local trained responders will be activated to provide assistance for the recovery of the turtle.
What to look for:
At sea:
Floating for an unusually long time, unable to dive.
On the beach:
Listless, lethargic, and looks gaunt and malnourished.
Struggles to lift its head.
Does not move freely.
Injuries to carapace/shell damage, flipper damage.
Is it possible the turtle is resting?:
Turtles can travel over a thousand kilometres between feeding grounds and nesting zones. They will, on occasion, find a beach on which to rest. These turtles will be active and usually move if approached.
Being a reptile, turtles can sometimes come ashore or sit in shallow reef to bask in the sun.
If the turtle appears active and undamaged, it is most likely basking.
What to do if you find a dead turtle:
As with any emergency, details are important. Call the Marine Stranding Hotline with the following information:
Location – GPS if possible. Town/city, beach name, and location on the beach together with any obvious landmarks or reference points.
Condition and size of turtle. Look for damage, state of appearance, approximate size etc.
Appearance can give a clue to species, e.g. size of head, shape of carapace.
Your mobile phone number.
Photos to send to nominated responder.
Can I help?:
If you wish to wait for the local responder that can be useful if the turtle requires moving. In the meantime, please do not touch the turtle, especially if damaged.
Always cooperate with the local responder as that person will be trained and able to manage the safety of individuals and the turtle.
What if the turtle is dead ?
Turtles in any state should be reported to the Marine Stranding Hotline, even if deceased.
Occasionally turtles will be washed ashore that are in a state of decay. The local responder will know what to do so it is still important to report this event.
Remember, all Marine Stranding information will assist in monitoring sea turtle populations.
For more information, visit the DES website.