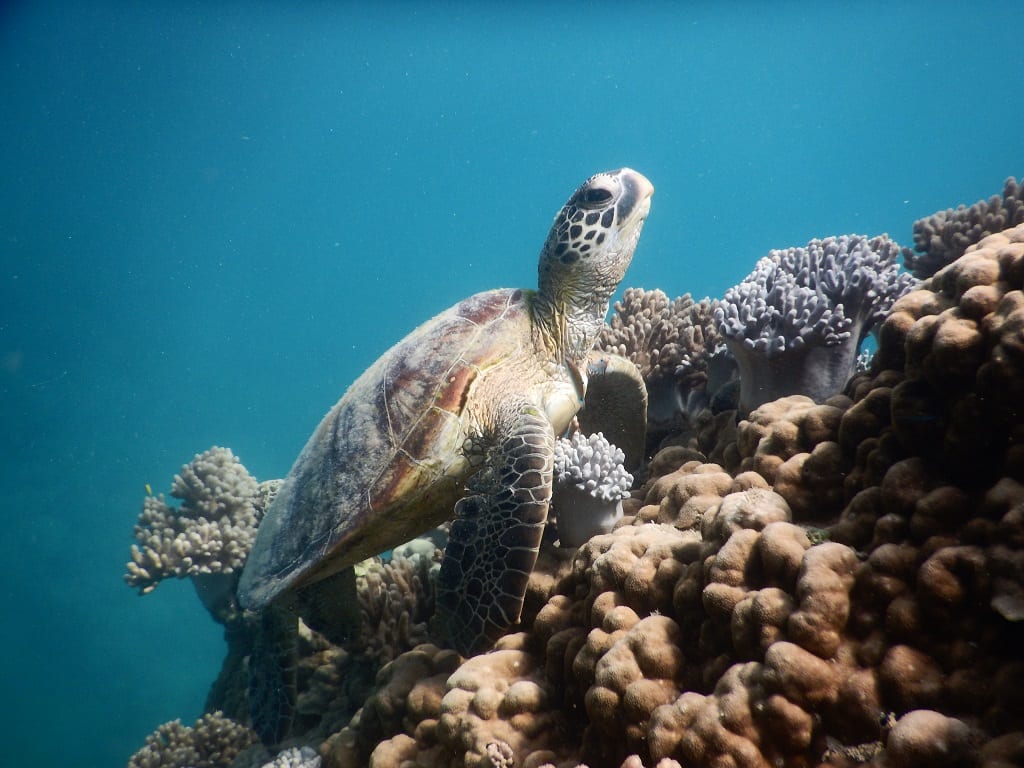 Green Turtle
GREEN TURTLE
(Chelonia mydas)
Identification:
4 pairs of large scales on either side (costal scales)
Non-overlapping carapace scales
Carapace high domed
Colour light to dark green with dark mottling
Adult carapace approximately 1.0 metres
Habitat:
Green turtles occur in seaweed-rich coral reefs and inshore seagrass pastures in tropical and subtropical areas of the Indo-Pacific region and Atlantic Ocean.
Diet:
Adult green turtles feed mostly on seagrasses and algae although immature animals are carnivorous.
Breeding and nesting:
Worldwide it has been estimated that the green turtle has nesting sites in over 80 countries within the tropical and sub-tropical areas spread throughout all the major continents and Islands of the world.
In Australia, there are seven regional populations of green turtles that nest in different areas; the southern Great Barrier Reef, the northern Great Barrier Reef, the Coral Sea, the Gulf of Carpentaria, Western Australia's north-west shelf, the Ashmore and Cartier Reefs and Scott Reef.
The southern Great Barrier Reef population has major rookeries on the Islands of the Capricorn Bunker Group and minor breeding aggregations on mainland beaches from Bustard Head to Bundaberg. Nesting occurs between mid-late October and late March-early April with a peak in late December-early January.
In the northern Great Barrier Reef major breeding aggregations occur on Islands of the outer edge of the reef, including Raine Island and nearby cays. Minor rookeries for this population also occur on the mainland and inner and outer shelf islands and cays from Cape Grenville north and in Torres Strait. Nesting can occur year round, but most nesting occurs from October to March with a peak in late December-early January.
Green turtles nesting in the northern Great Barrier Reef migrate from feeding grounds in Indonesia, Papua New Guinea, Vanuatu, New Caledonia and across northern Australia from Melville Island in the Northern Territory to Moreton Bay in south-east Queensland.
The Gulf of Carpentaria has two main nesting areas, the Wellesley Island Group, with major rookeries at Bountiful, Pisonia and Rocky Islands, and the Eastern Arnhem Land, Groote Eylandt and Sir Edward Pellew Islands area. Nesting occurs year round, with a mid-year peak in nesting activity.
The north west shelf has widely spread nesting sites from the Ningaloo coast to the Lacepede Islands. Major nesting sites include the Lacepede Islands, Browse Island, North West Cape, Barrow Island and the Montebello Islands. Nesting activity occurs in November to March, but may occur year round in the more northern sites.
Green turtles nesting along the Western Australian coast migrate from feeding grounds in Indonesia, Queensland, Northern Territory and as far south as Shark Bay in Western Australia.