Nesting Season is here 08 February 2021
Written and photographed by Stephen Gummer.
The Great Barrier Reef off Mackay is a spectacular place, and home to many beautiful creatures. Today we are going on an exciting adventure with the Mackay District Turtle Watch (MTDW) President Steve Fisher and MDTW Secretary David Bowen, both very experienced in turtle research.
It was going to be an early start 5am, forecast was slight seas and 5 knot Northerlies, so beautiful conditions for the trip to the islands in the Cumberland group. Objective is to assess the success of this year's sea turtle nesting season. The trip to our first site, Penrith Island, took approximately 2 hours. It was full tide, so we were able to easily cross over the fringing reef and into the sandy bay, adjacent to a beach known to be a popular sea turtle nesting beach. In the Mackay region we expect to see Flatback, Green and occasionally Loggerhead turtles nesting. Other species, Hawksbill, Leatherback, and Olive Ridley turtles can be found in the Great Barrier Reef World Heritage area but do not nest in this region.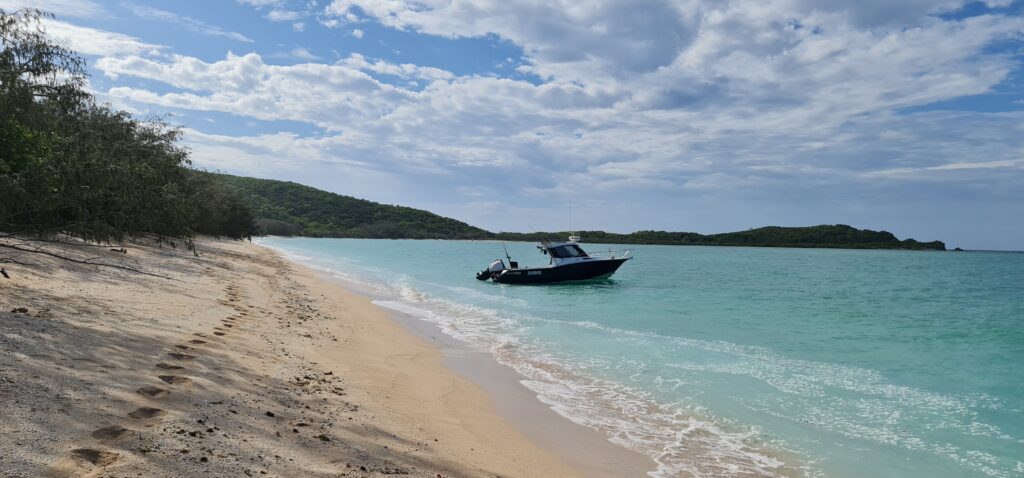 Walking the Beach
Once the boat was securely anchored, we all waded ashore. Sun is out, temperature is on the rise, so armed with hats, sunscreen, and water, full of anticipation we set of towards the end of the beach to start our survey. Will we find any nests? What turtles will they be? Most of all, will we see any hatchlings? I certainly hope so.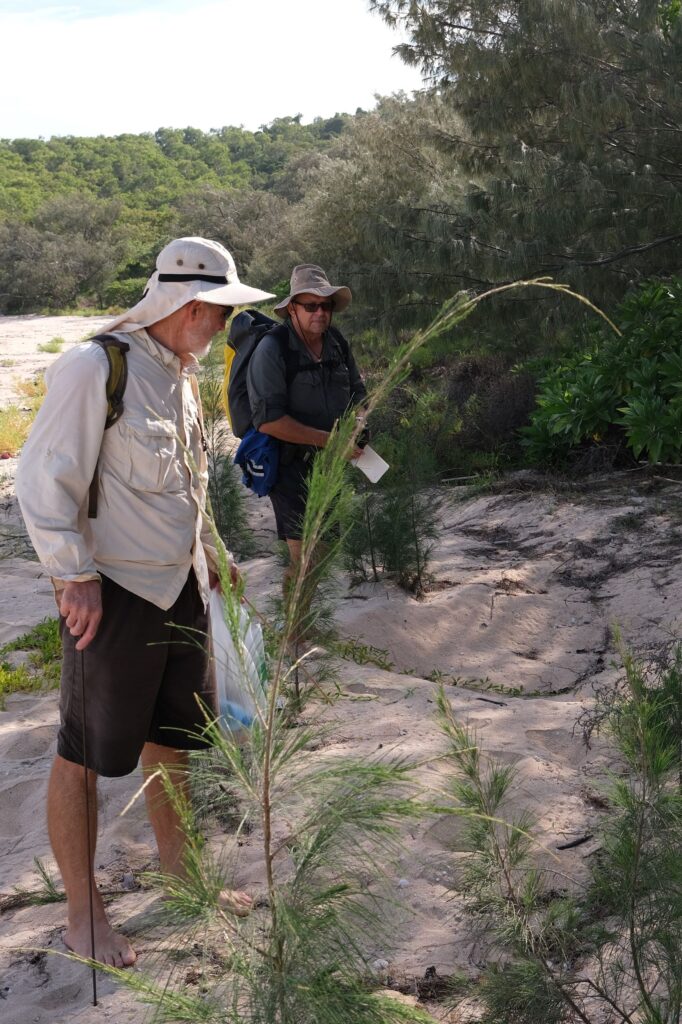 We found a few turtle nests in the area mostly green turtles based on the tracks, and size and shape of the nests so Steve and Dave tell me. There were a few false nests, and we could see some overgrown nests from last season.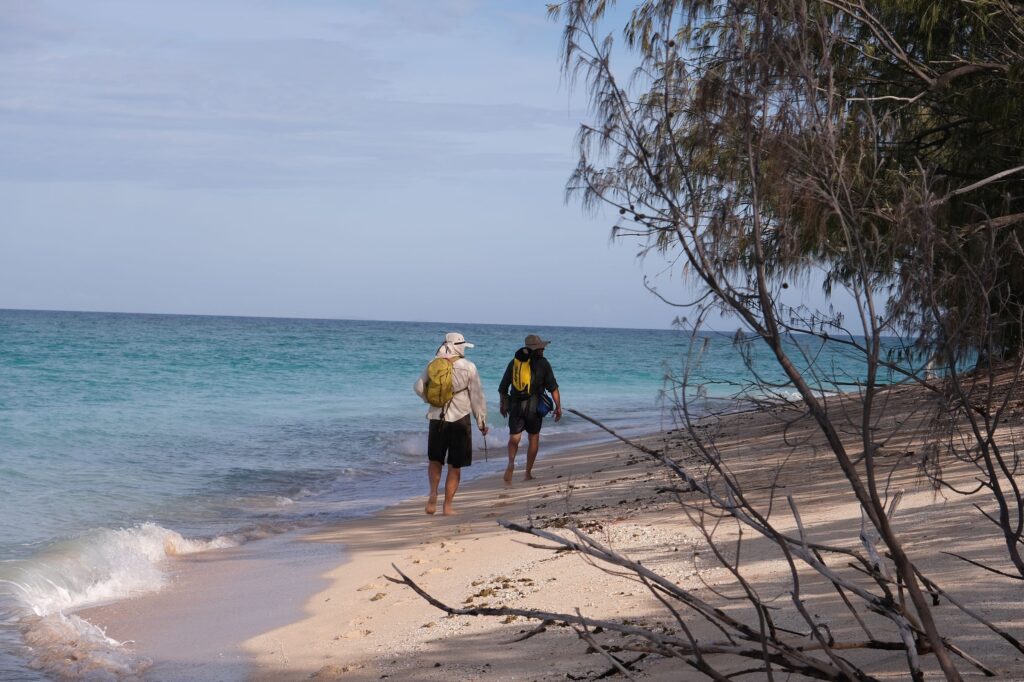 Flatback turtles lay up to four times during the season, while Green turtles can lay twice that many clutches, so it was not surprising to find some new adult turtle tracks leading up the beach. These tracks were possibly made as recently as the previous night.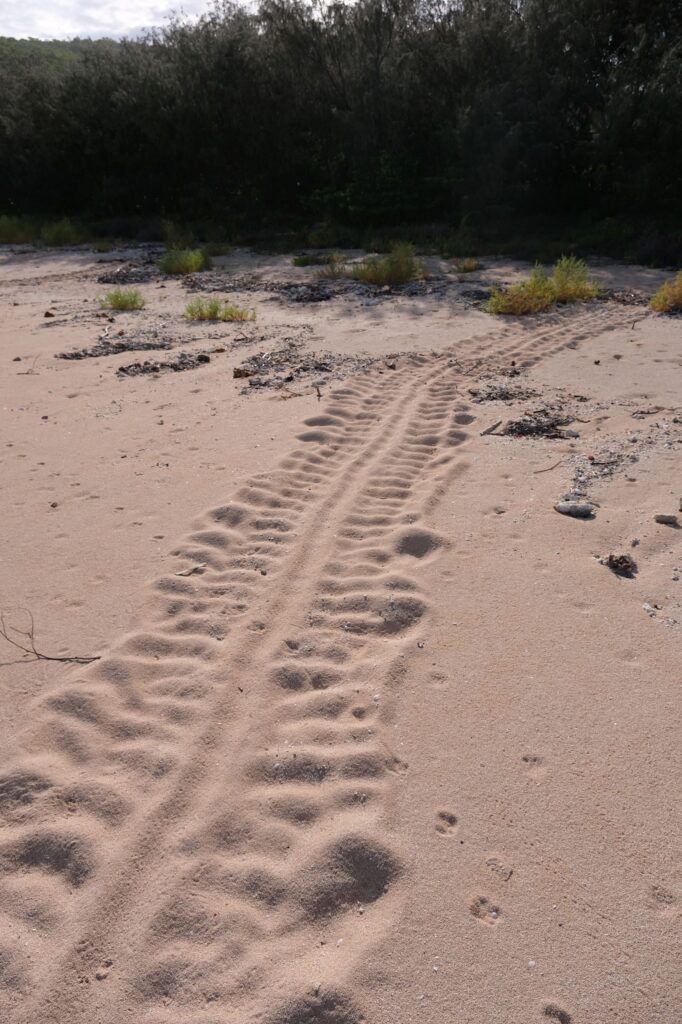 We found many tracks from hatchlings that had climbed out of their nests and found their way down into to the water. Steve told me that only about one in a thousand hatchlings survive to be adults. If you look carefully and follow the tracks back up the beach, they lead to a point in the soft sand. This is where the nest is. Hidden very well and extremely hard to spot.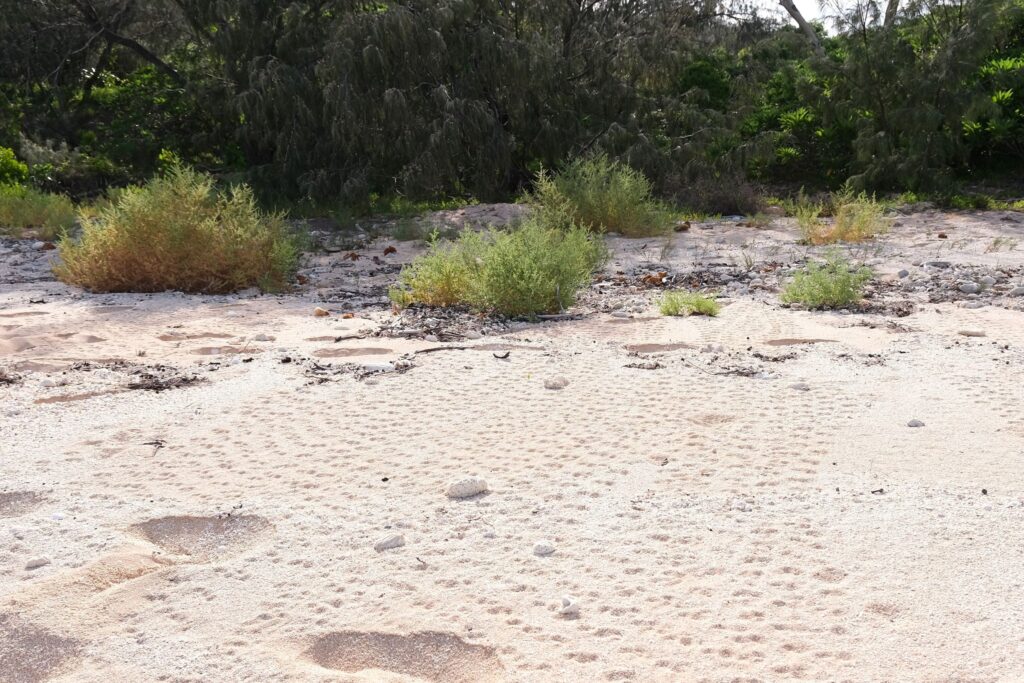 Excavating a Nest.
We happen to come upon an interesting nest, under some native flora. Dave tells me that it will be cooler under there and the eggs take longer to mature. There is evidence the baby turtles have hatched successfully not too long ago. This nest is a good nest to excavate to check on hatching success. It is especially important that only trained persons excavate nests as it can be very harmful to any hatchlings still in the nest if the person does not have the correct training combined with loads of field experience. Turtles, nests, and hatchlings are all protected under the QLD Nature Conservation Act and it is an offence to handle turtles, eggs or hatchlings unless you are trained and have been authorised under the Dept of Science, QLD Turtle Conservation Program.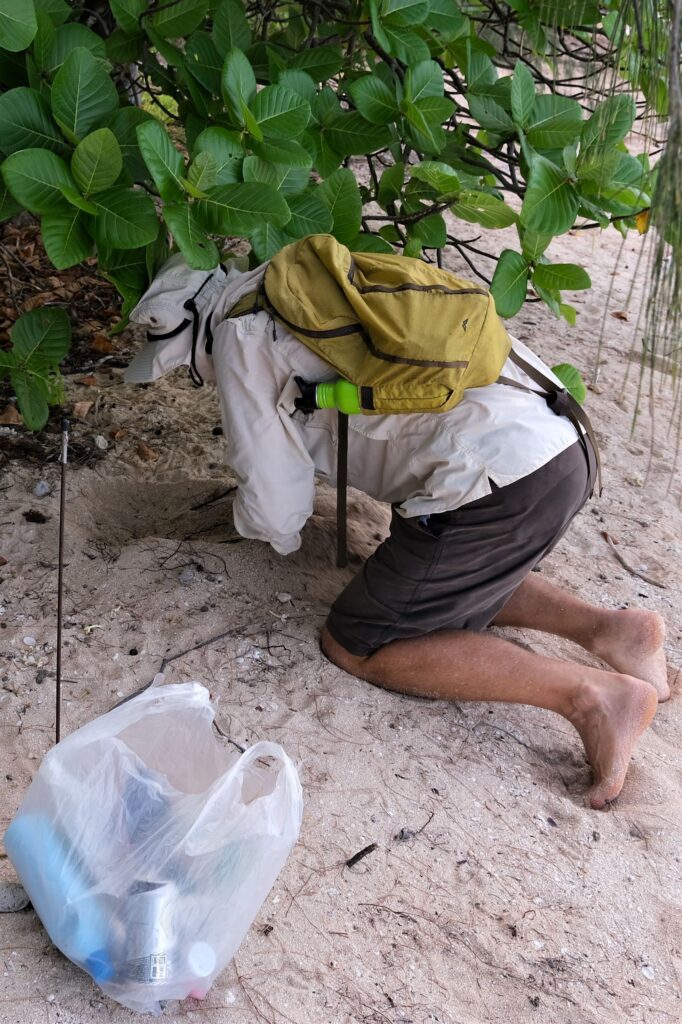 Steve and Dave are trained and authorised to excavate nests and handle sea turtles. Not very deep into the excavation we find something breathtaking. Well for me anyway. Dave asks me to come have a look. A couple of baby turtles stuck in the root system that had invaded the nest site. The poor little things are stuck! Dave frees one and passes it up for release. I have never held a baby turtle before, so tiny. I have been instructed to put the hatchling high up on the beach facing towards the water. Dave told me the hatchlings at this stage are learning and imprinting the beach as they, scurry down towards the water.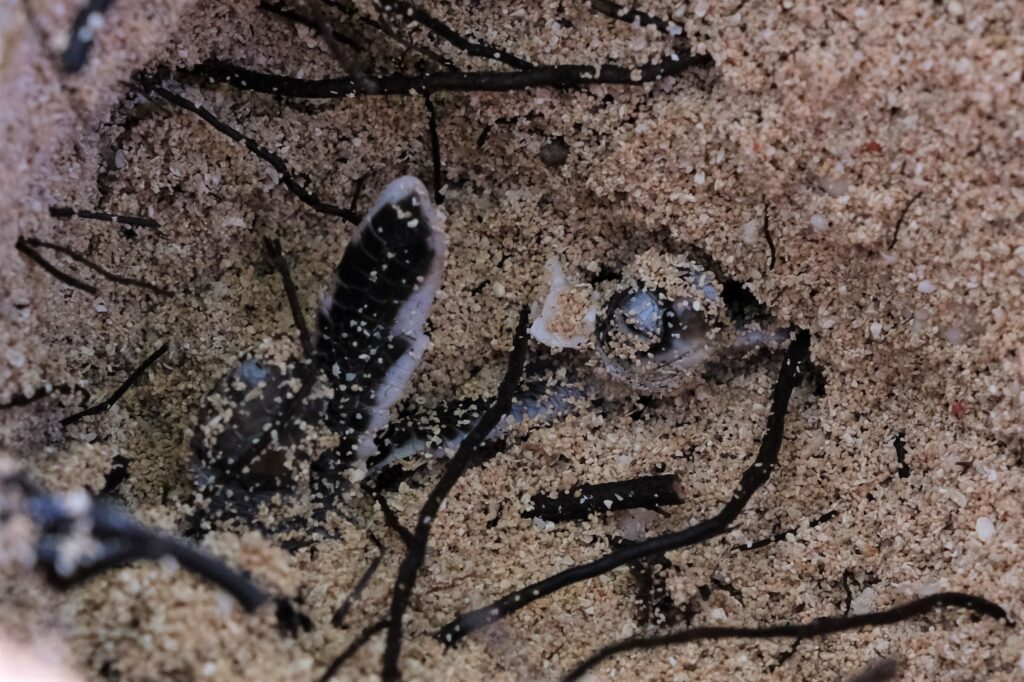 They are also warming up for their long swim after being trapped in the nest. One day if this little one is lucky and manages to grow to an adult female she will be back to this very same island. It is important to have minimal contact as possible to give the turtle the best chance for survival so the hatchling was immediately released in a good spot, able to crawl directly to the water. I took a couple of photos of this little one's efforts to find its way to the waters edge.
As the excavation of a nest is sandy work, I put the camera away as the rest of the nest now need to be excavated. Dave informs me, this is a green turtle nest and we should expect up to over 100 eggs. As Dave continued to dig very carefully, we come across 7 more hatchlings trying to climb free out of the root system. We released them and watched as they all made it to the water's edge and swam away into their new lives. In total we counted 116 Shells, performed 9 assisted releases, and found sadly that eight of the little turtles in the nest did not survive. They were well developed but had died before hatching. Steve and Dave tell me this is normal, and this is actually a highly successful nest. This is good news for the Green turtle population.
If you want more information or would like to become a volunteer. Please Check out Mackay District Turtle Watch Website at https://mackayturtles.org.au/
Please remember that handling of turtle or there nest are is prohibited by law and can only be done under the direct supervision of trained personal.