Thanks to the hard work of members Jacky and Chris, we have had some great data recorded throughout the 2020 nesting season.
Thanks to the huge effort by volunteers Jacky and Chris, M&DTW has had, for the first time, continuous monitoring on Harbour Beach, between the South Wall and East Point at the mouth of the Pioneer River. Total recorded numbers are 24 viable nests and 1097 hatchlings. We have gained a huge knowledge base from Jacky and Chris's 4:30am starts.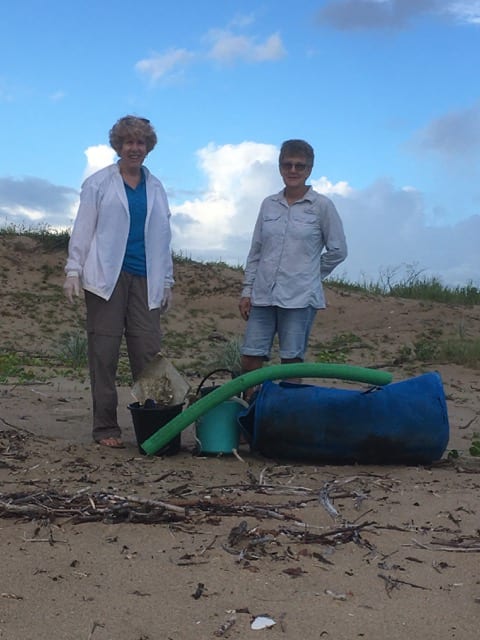 Observations during those early morning walks made every day a new experience.
For example, not only did the friendly goanna help with the nest inspections, judging by the tacks it did, on one occasion, dine on hatchlings. However, the biggest threat to nesting activity was the uncontrolled use of 4WD vehicle and motorbikes on the beach and foreshore dune systems. There is no doubt that this activity was not only frustrating for our dedicated ladies, but totally infuriating to watch the gradual destruction of what should be ideal nesting coastline.
Other than the vehicular threat, the turtles also had to encounter other human threats with light pollution in some beach zones. Cats, dogs and horses also pose a risk to nesting females and hatchlings.