The Mackay & District Turtle Watch Association held the AGM on Saturday, 03 October 2020. Twelve members were in attendance along with two visitors.
Steve Fisher, who presented his second President's Report, chaired the meeting with precision. As there were no other nominations for the positions of office bearers, the incumbent executive were unanimously elected unopposed. There was one exception however with John Weissman ,stepping down as Vice President, due to work pressure. Sally Stutsel was nominated and duly elected for this role. Welcome Sally and a big thank you to John who has been instrumental in analysing the life of project data and providing some very worthwhile statistics. This led John to initiate the Sand Temperature Monitoring Project. The AGM took just 25 minutes, after which we held our regular meeting.
The 2020-2021 Mackay & District Turtle Watch Association leadership will be:
President: Steve Fisher
Vice President: Sally Stutsel
Treasurer: Fay Griffin
Secretary: David Bowen
President's Report – The Year That Was.
We started the year off with refresher training with Janine Ferguson from QPWS. Janine took us through turtle life cycles and managing nests. We then went down to Lamberts Beach for practice in digging and relocating ping pong ball 'eggs'.
By undergoing the refresher training Col Limpus from the Queensland Turtle Conservation Project (QTCP) felt more comfortable authorising M&DTW members with whom he is not personally familiar to excavate nests.
To further help with the authorisations, Sally successfully applied for an Animal Ethics Permit for M&DTW which is one step towards obtaining the plethora needed to eventually operate independent of the QTCP. Sally has also applied for a Scientific Purposes Permit and a Permit to Take Use Keep Interfere with protected wildlife and a State Marine Parks Permit. Watch this space.
Our website got a total makeover and is now up and operational. M&DTW also joined the social media world with Instagram and Facebook Pages. Thanks to David, Joely, Cass and Indus.
The arrival of COVID19 made an impact on our presentations and public engagements. Fay still managed to have 13 public engagements with David, Joely, Lee, Lynnette and myself delivering six. One of which was when Fay had a conference call with Vision Australia. Fay described what it was like to undertake turtle monitoring, painting a picture for people who will never get the opportunity to see it for themselves.
Seven M&DTW members got to spend a week on Cockermouth Island and Penrith Island monitoring the success of nesting turtles, through funding from Reef Catchments and the Australian Government's National Landcare Program. The Cockermouth crew were lucky enough to see three different species of turtle nest on the same beach in a week – Green, Loggerhead and Flatback. This is the first time three species have been found nesting on one beach in this region.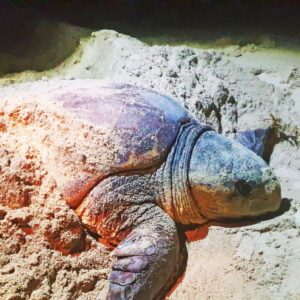 Some of our other key achievements include:
Our membership is growing with 27 financial members, some as family memberships.
Standardising our logo with a corporate logo and a display logo.
John collated our data and produced a very informative report on nesting trends and compared them with weather events.
Our containers for change is going gangbusters with $4300 worth of cans and bottles being donated to M&DTW.
M&DTW were successful in a grant application through Australian Government Communities Environment Program for$2688. This is to place temperature data loggers in nests to give an early warning if sand temperature exceeds levels nests and hatchlings can survive in.
We had 12 members volunteer with the QTCP at sites on Mon Repos and Avoid Island.
Last season had a greatly increased nesting numbers:

2019/2020 – 239 nests
2018/2019 – 89 nests
2017/2018 – 155 nests
2016/2017 – 161 nests
2015/2016 – 176 nests
2014/2015 – 154 nests
M&DTW was invited to make comments on the East Point Development project, Mackay Coast Street Lighting Review and the Seaforth foreshore development plan.
The QLD Stranding Hotline contacted us to respond to over 30 reports involving turtles. Some were dealing with dead turtles, some were dealing with sightings of injured or sick turtles and some were responding to sick injured or stranded turtles.
M&DTW members transported 10 turtles to the Whitsunday Turtle Rescue centre for rehabilitation. 3 died, 4 are still in care and 3 have been released back into waters off Mackay.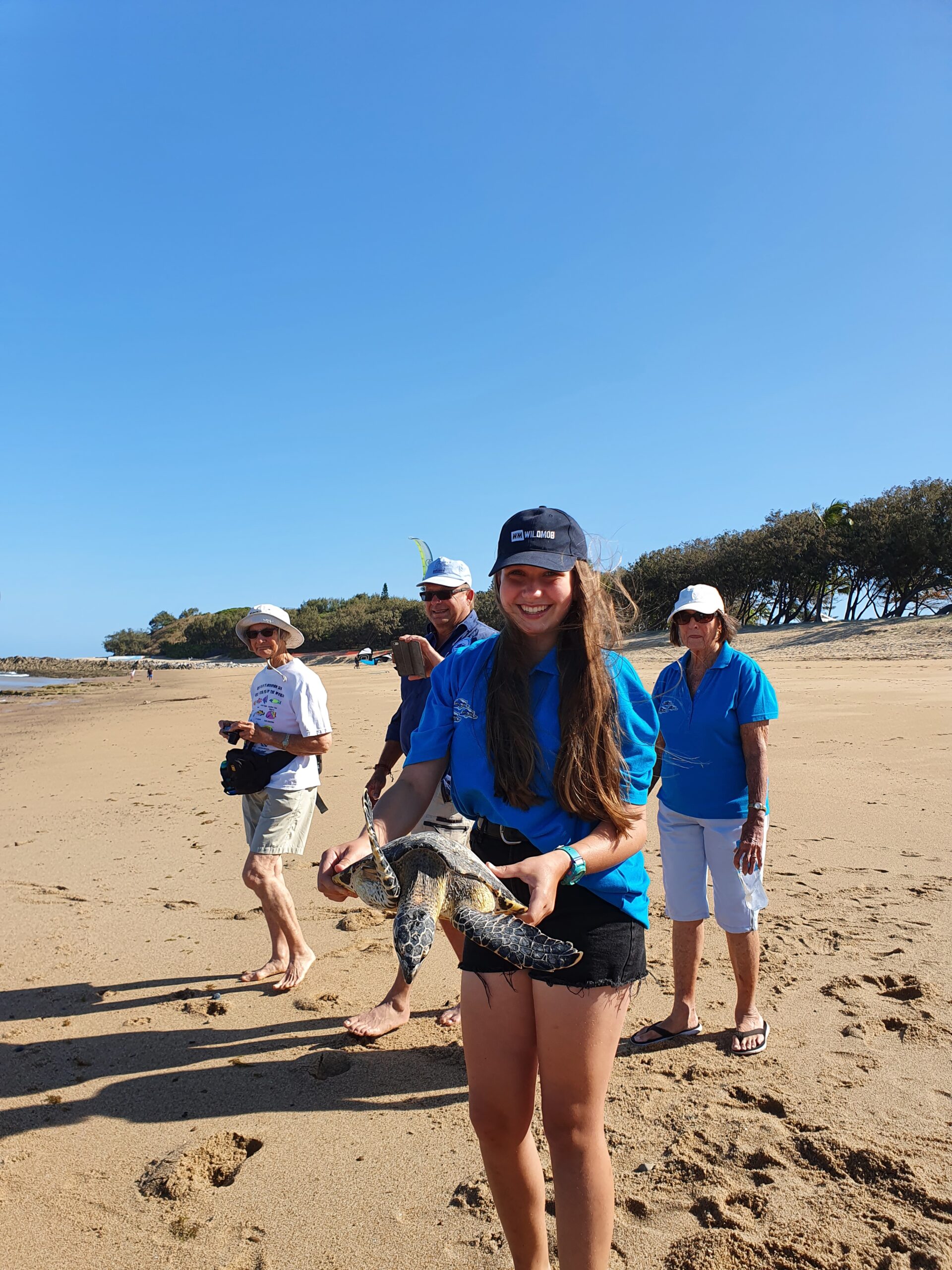 The Year Ahead
There is an opportunity to work on Avoid island with the Queensland Trust for Nature (QTFN) to carry on their Flatback nesting monitoring program. Sally and David are undertaking a 2 week field trip to see how this will work for future seasons involving M&DTW members
We are working towards getting more nesting turtles tagged by organising members and general public to walk beaches at night looking for nesting turtles and then trained and authorised members who can tag will respond.
Keswick Island residents are concerned about beach development on nesting beaches and we are working with Reef Catchments to develop a simplified monitoring program that non-trained volunteers can undertake. If successful this can be rolled out to beaches where we have no beach co-ordinators
Reef Catchments, through funding from the Australian Government, are also funding M&DTW to implement a temperature data logging project. This will involve the purchase of data loggers to monitor nest temperatures and facilitate intervention actions to nests at risk due to excessive beach heating.
M&DTW will also review and update its training package with the aim to create a standardised methodology for this monitoring program. David has produced a Safe Work Guidelines as the backbone for this program.